Light beam angle is an angular expression that shows how light emitted from a light source. Light sources can be defined as narrow angle from 5 to 45 degree, wide angle from 45 to 120 degree.
According to the definition of JGJ/T 119-2008, the beam Angle is the Angle between the two vector diameters of the luminescence intensity curve expressed in polar coordinates on a given plane. The luminescence intensity value of this vector diameter is usually equal to 10% or 50% of the maximum luminescence intensity. As shown in the figure, when the peak light intensity is 50%, the included Angle is 2x34°.
The light beam Angle reflected on the illuminated wall is the spot and brightness.  If same light source is applied in the reflector of different angle, beam angle is bigger, central light intensity is smaller, light spot is bigger also.  The same principle applies to indirect lighting. The smaller the beam angle, the smaller the ambient light intensity and the worse the scattering effect.  In addition, the beam angle size of lamps is also affected by the relative position of light source and lampshade.
Choosing the right beam angle of LED lights is very important for any lighting project. Imagine that you walk into a dimly lit building, how to you feel about that ? You may never want to go there again! One reason that will happen is the wrong beam angles of the lights.
In practice, different beam angles have different applications.  For example, narrow beam is easy to produce high key lighting coefficient, and its strong contrast between light and shade gives people a strong visual impact, which can catch people's eyes at the first time. However, too high contrast will make the observer unable to see the details of the object illuminated, and the light spot is too small, which will also lead to the object illuminated is not fully illuminated.  K1, K2, K3 and K4 lamps in the following figure have significantly different irradiation effects on the picture due to different beam angles.  Of course, in practical use, we should also consider the distance, direction, environmental brightness and other factors of the lamp projection.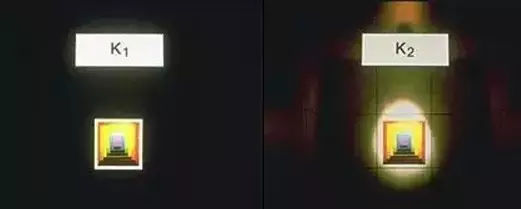 If you're unsure about which beam angle to choose, selecting anything from 35 to 45 degrees will work fine in the majority of room types, but it does depend on the application and spacing of the lights. Anyhow, choose the light source and lamps scientifically and reasonably, to create an ideal environment and space atmosphere.
---
Post time: Feb-28-2022